2023 Kia Niro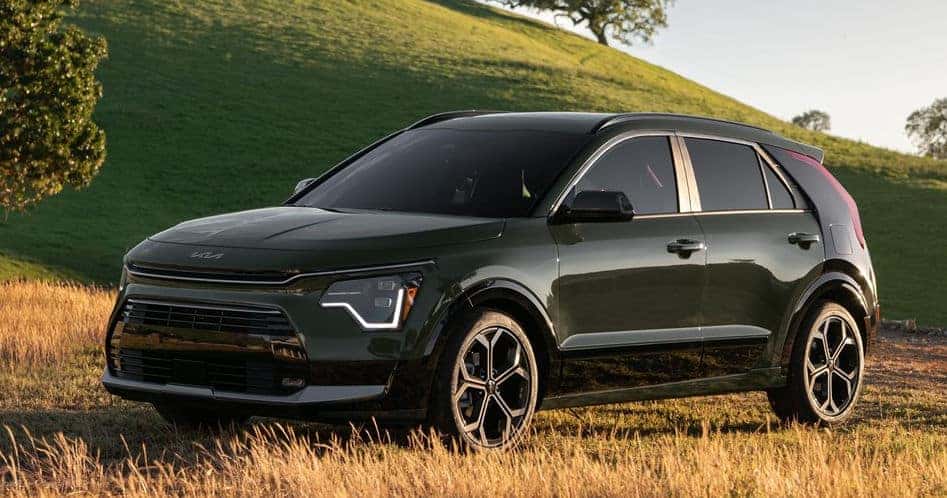 2023 Kia Niro
BASE MSRP: $26,590
Horsepower: 139
Estimated City MPG: 53 MPG 
Estimated Highway MPG: 45 MPG
Get to Know the 2023 Kia Niro
Kia has set out to completely redesign the already reliable and versatile Niro. With the 2023 Kia Niro, interested Denver Metro customers can choose between one of three different powertrains that will be available. Ranging from standard hybrid to fully electric, the futuristic approach to the CUV is a refreshing take on everyday Colorado driving needs. Add on the same attention to detail to a modern interior feel, and the newest iteration of the Niro promises to be the most exciting version of the vehicle yet.  
2023 Kia Niro Trims
There are multiple trims available for the 2023 Kia Niro for interested customers to choose from. Catering to a wide variety of driver preferences, several different powertrains exist for the versatile vehicle. Across every version of the vehicle, passengers will experience the pinnacle of Kia ingenuity and design going into the future of the brand. 
2023 Kia Niro LX: MSRP from $26,590
2023 Kia Niro EX: MSRP from $29,190
2023 Kia Niro EX Touring: MSRP from $31,490
2023 Kia Niro SX: MSRP from $32,590
2023 Kia Niro SX Touring: MSRP from $34,890
2023 Kia Niro Plug-In Hybrid SX: MSRP from $33,840
2023 Kia Niro Plug-In Hybrid SX Touring: MSRP from $39,590
2023 Kia Niro EV Wind: MSRP from $39,550
2023 Kia Niro EV Wave: MSRP from $44,550
Performance
The baseline hybrid powertrain for the 2023 Kia Niro fuses a 1.6L four-cylinder gas engine with an electric motor. Generating 139 efficient horsepower, getting around the Denver Metro region behind the wheel of a hybrid vehicle will prove to be an enjoyable experience. As for the PHEV version of the 2023 Niro, the slightly reconfigured powertrain sees a performance increase to 180 horsepower. Both versions pair their powertrains with a six-speed automatic transmission for seamless acceleration, and FWD for nimble handling capabilities. A Permanent Magnet Synchronous motor finds its home in the pair of Kia Niro EV models. This setup generates 201 horsepower of on-demand and virtually silent performance for everyday needs. These models also feature Regenerative Braking to help keep the battery charged for longer. 
Interior Features
Keeping with the commitment to providing drivers and other occupants of the vehicle with the most updated ride possible, Kia will be loading the 2023 Kia Niro family of CUVs with plenty of passenger space, cargo space, and premium amenities. With up to 67 cubic feet of cargo space available, the series of Niro CUV models will be great options when needing to undertake large grocery runs or when transporting larger items from one location to another. The vehicles will also come equipped with plenty of infotainment features to please everyone in the vehicle with convenience or entertainment functionality that fits their modern tastes.  
Safety Features
New for the series of 2023 Kia Niro vehicles is an updated take on the Adaptive Cruise Control system. Known as, "Highway Driving Assist 2", drivers of a Niro equipped with this feature will find cruising around Colorado on I-25 or I-70 is a much more enjoyable experience as the CUV handles many of the driving elements. Please note that proper attention to the road must always be applied while the system is operational. Forward Collision-Avoidance Assist with Pedestrian and Cyclist Detection is another welcome modern driver-assistance feature that will be found on the 2023 Kia Niro.  
Learn More About the 2023 Kia Niro with Emich Kia in Denver, CO
As more details about the series of 2023 Kia Niro CUVs are announced, stay updated with Emich Kia in Denver, Colorado. Being the newest addition to the Emich family of dealerships in the region, we are pleased to help answer any questions you might have about the newest Kia vehicles. Stop by or contact our dealership today and speak with one of our sales associates to get yourself as well-informed on the 2023 Niro as possible!  
(Photo Credit: Kia)